Welcome to Firever Wedding Venue

680 Corn Hill Road. Etters, PA 17319
Firever Wedding Venue welcomes you to our Christmas Tree farmette.  Firever Wedding Venue is located on 10 acres lush green field surrounded by Christmas trees, making a perfect setting for your rustic or outdoor wedding.  Firever Wedding Venue offers several amenities to make your wedding day memorable, relaxing, and enjoyable.  With a host of indoor and outdoor amenities you'll have plenty of space for the bridal party and groomsmen to prepare for the big day!  Light refreshments will be provided for bridal and groom party.
Have a Question? Call (717) 409-4381
Outdoor Amenities
Large, open grass field
Spacious outside bar with two patios
Expansive yard for entertaining with firepits
Ample parking for guests with a parking attendant on staff
Bridal Party Amenities
Private restroom
Large bridal room with vanities to prep for wedding
Groomsmen Amenities
Private restroom
Lower-level groomsmen lounge featuring:
Bar, Pool Table, Dart Board, and TV
Wedding Package
All events hosted at Firever Wedding Venue include use of property, security person, parking attendee, ice, cups, firepits, cornhole boards, lights for tent, 3 drink containers, arbor, screen to display table assignments, table numbers, canopies, numerous wedding decor are provided as part of the Firever Wedding Venue rental agreement, unless noted otherwise.
Firever Wedding Venue offers many additional options for your special day. Need help finding vendors? We'll assist with providing our preferred vendors list to help out during your planning process. Please let us know if you have any personal needs throughout your wedding process to help accommodate you and your wedding party. We understand each wedding is unique and will provide you with a personal touch. Firever Wedding Venue looks forward to hosting your wedding and being a part of your new beginning together.
Photography
Looking for the perfect photo opportunities? Firever Wedding Venue offers several beautiful back drops throughout the grounds. Whether it's taking a stroll through the Christmas trees, wildflower fields, sunflower fields, or open meadows you'll have several opportunities to take that perfect photo. Firever Wedding Venue staff prides itself on having its gardens in full bloom throughout the season.
Haring Originals Embroidery
Haring Originals Embroidery offers customized embroidery. Want personalized wedding embroidery?  Checkout our website haringoriginals.com for more information! We can digitize your logos and meet all your organization or business needs.
Firever Pines Tree Farm
Firever Pines Christmas Tree Farm owns and operates two Christmas tree farms, one on the Firever Wedding Venue property in Etters, Pennsylvania and a second location just outside of Richmond, Virginia. Firever Pines offers fresh, handmade wreath for fundraisers and are also available online.
10% off Discount
Members of the Military and First Responders receive a 10% off Discount for their service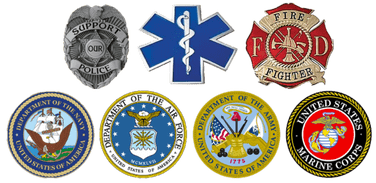 My husband and I just had our wedding here in October 2021. It was a great place to have our wedding and our guests could not stop complementing on how beautiful the property was. It is a cute farmhouse with plenty of outdoor space to make your outdoor wedding what you want it to be. We had about 150 guests. We had room for a large party tent, where the reception was held, and inflatables and games for our guests to enjoy. The scenery of the property is just stunning. Plenty of different backdrops for photos. The space for the party to get ready has all the essentials. There are multiple vanities and plenty of mirrors to help prepare for the big day. Plenty of space to hang dresses. The groomsman had a blast getting ready in their area with plenty of lounging space and a pool table. The property has a large parking lot where all the guests were able to park. There are also a few handicap parking spots to accommodate for guests that need them. The owners are really great to deal with and keep the property well maintained.